PROFENDER 4X4
Profender expertise in manufacturing and developing shock absorbers dedicated to SUVs, modified cars, armored car, commercial car and trucks that require high durability and stability. We are considered one of the most preeminent shock absorber exporters in Thailand and South East Asia and are particularly recognizable for our innovative products designed by our determined engineering team. Profender pays additional attention to our Research and Development department in terms of choosing our personnel, tools and advance devices and machineries to ensure high-performance shock worth your purchase.
YEAR 2007
Profender Co.,Ltd. was founded and established in Samphran District in 2007 by Mr.Thongchai. From there, Profender was formed to develop and
design premium shock absorbers.
YEAR 2014
In 2014, Profender moved to its current factory in Hom Kret district in order to support our expand in production capacity.
YEAR 2015
In 2015, Our company received approval from the Board of Investment (BOI) to export our shock absorber worldwide.


YEAR 2018
In 2018, we expanded our factory to 4 additional acres to further support our expansion in domestic and international markets; ultimately manufacturing1.5 million pieces per year.
YEAR 2021
This year our company is in the process of constructing a second factory on a area of 6 acres in order to facilitate are expansion both in Thailand and abroad.


Profender focuses on manufacturing shock absorbers targeted to After Market consumers that demand quality and innovative shock absorbers. Sold over 40 countries worldwide, we are entrusted to deliver comfort and enhance the overall performance and capabilities of your vehicle.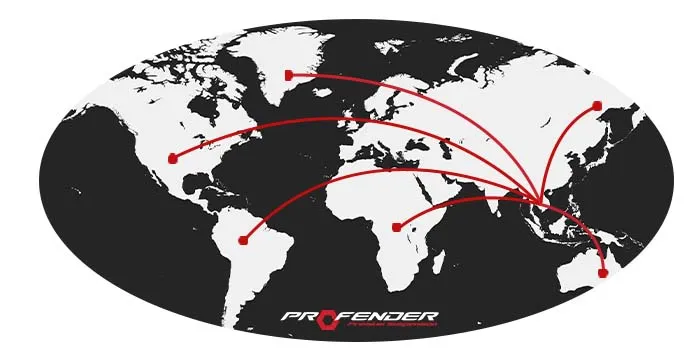 Profender exports to
40 countries all over the world.
Our vast variety of models to choose from is individualize to fit each customer driving experience and usage. We pay close attention into manufacturing our shock absorber and is qualified for international standards ISO 9001: 2015 and IATF16949 2016.